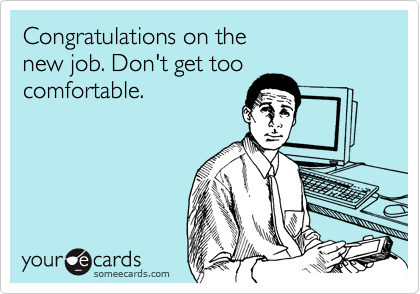 On the first day of my first advertising agency copywriting job in 1996, I reeked of insecurity. I checked all boxes of a fragile creative. "They'll see right through me." "How long before they realize I'm a fraud?" And the one I battle to this day, "I'm a hack."
To someone who hadn't spent a single day writing for a real client, the only tool in my chest was my willingness to work hard. I may not have been smarter or more creatively gifted than my peers. But I could always put in more effort.
I even erected a 50-point-type monument to hard work, printed in Futura bold, spray mounted on black board and mounted on top of my computer.
"Write Another Headline"
It was my daily reminder that I was no genius. There was always another idea, another spin on the brief, another stone buried somewhere in the huge rock garden of concepts that I had yet to overturn.
I was recently reminded of that little sign while listening to an episode of This American Life. In it, Ira Glass documents a "thumbs up/thumbs down" writers' session at The Onion where peers bless or kill each others' headlines for the upcoming issue.
Now, you may be thinking that these people are born funny. That everything that comes out of their brains is Sarcasm Gold. But the reality is that comedy – just like advertising or screenwriting or golf or cooking or painting – is all about numbers. You can't get to great just by jotting down your first, second, or 50th thoughts. It takes discipline to work beyond the moment when you think you've come up with it, and keep pushing yourself to find something even better.
From that podcast:
It takes them two long mornings – on Monday and on Tuesday – to come up with these 16 headlines they're gonna use in the paper this week. And to get to this 16, they go through – and I know this number is gonna sound kind of crazy – 600 possible headlines.
That equation reminds me a lot of a lesson that Sally Hogshead teaches often: "Write 100 headlines for every 1 that you actually need."
Will headlines 598-600 be the best? Not always. In fact, probably never. But the same can be said for headlines 1-3. You have to do the work.
In any endeavor, simply showing up isn't good enough. Not if you want to make your mark.